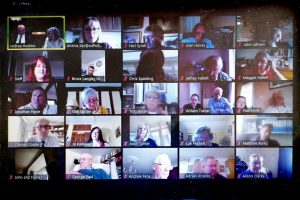 On Saturday 24th April 2021, the Suffolk Horse Society held its Annual General Meeting.
We are pleased to announce that Andrea Hoskins and Fiona Fleming have been elected to hold their posts as President and President Elect, respectively, for another year.
Congratulations to our new Trustees, Alison Clarke, Nigel Murfitt and Julie Turner, and to our Trustees who were voted to hold their place on the council again, Jonathan Purse, Alan Hawes and Fred Barrelet.
We thank Nigel Oakley, Glen Cass, Matthew Bundock and Karen White for their service to the Society during their time as Trustees.
The President's Award was given to our young volunteer, Noah Evans, who has given up his spare time creating videos for the Suffolk Horse Society as well as writing a theme tune for the SHS videos. These have been watched thousands of times on our YouTube channel.