Horse Feed and Supplements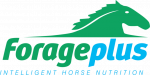 Address:
Forageplus Ltd, Unit 10, Broncoed Business Park, Mold, Flintshire
CH7 1HP
Short Description:
The Forageplus™ approach is based on the forage your horse eats. We can advise you on how to match the feed your horse eats to the forage eaten. We pride ourselves on excellent service using the latest equine nutrition knowledge and scientific forage analysis to test grass, hay, haylage water and soil.