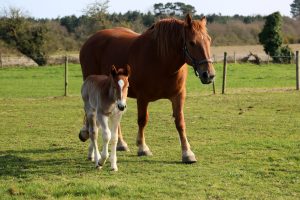 To All Members registered as owning stallions or mares which could be used for breeding
The Rare Breeds Survival Trust (RBST), in collaboration with the Suffolk Horse Society (SHS), has done good work with DEFRA and other Government Agencies and has now produced its Advice to Breeders and Breed Societies, a copy of which is available to download:
Covid-19 Protocol for Breeders of Suffolk Horses (PDF) Covid-19 RBST Advice to Breeders (PDF)
Following this advice we have drafted a Protocol for Breeders of Suffolk Horses. It is based upon the protocol drawn up by the Thoroughbred Breeders Association (TBA) which they issued in March and we know that it is working effectively and hundreds of Thoroughbred mares are being transported to stallions for covering.
In addition to the Protocol, it is necessary for the driver of the horsebox to carry a Transportation Document. A template for the preparation of this document is below. To make it easier for you to complete this document, we also enclose a blank form with spaces for you to fill in (Annex B). As you are likely to need to issue several copies of this form, one for each journey, I suggest that you take enough copies of this form to cover your needs.
Covid-19 Transportation Letter
This Transportation Document should be shown to anyone who questions the validity of your transportation.
Good luck with your breeding in 2021.